Dental Bridge Replacement Procedure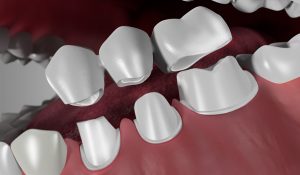 At Dentistry for Life, the process for replacing a dental bridge usually takes two dental appointments to complete.
During the first visit, your Philadelphia dentist prepares the abutment teeth to have adequate space to allow crowns to fit over them. Then impressions of the teeth of the involved jaw and the opposing teeth are taken. A bite registration material is then placed between your teeth and your dentist will ask you to bite firmly. This is important to develop the correct height of your bridge. If you do not bite right then the bridge will have to be sent back for a remake.
A custom shade match is done. The impressions and the recorded shade are sent to the dental lab for the fabrication of the final bridge.
It normally takes 10-15 working days for the dental lab to create your bridge. During this time period, you will wear a temporary bridge that is made of acrylic.
On the day your bridge is supposed to be permanently fixed in place, your dentist will check the fit and the contact with your opposing and neighboring teeth to ensure you are comfortable and makes necessary adjustments. Once he has your approval, the bridge is cemented with special adhesives.
Are dental bridges expensive?
The cost of the dental bridges in Philadelphia varies depending on various factors like location, dentist experience and material.
How long do dental bridges last?
Dental bridges last for anywhere between five to fifteen years or even for the longer period. Maintaining a good oral hygiene and regular dental visits will ensure the longevity of bridges.
Will dental bridges help in eating and speaking?
Replacing missing teeth with a dental bridge should actually make life easier. Bridges help restore speech and chew food without much difficulty. It is advisable to start with soft foods and then progress to tougher foods.
How to take care of dental bridges?
As dental bridges are replacements for your missing teeth, proper care and maintenance are very essential for long lasting results. Brushing your teeth twice a day and flossing will prevent tooth decay and gum diseases. Visit your dentist regularly for a dental check-up in Philadelphia. Maintaining a well-balanced diet will go a long way in keeping your teeth and gums healthy.
If you have any queries related to dental bridge replacement procedure, feel free to consult our tooth restorative dentist in Philadelphia.