Everything You Need to Know About Dental Implants: Replacing missing teeth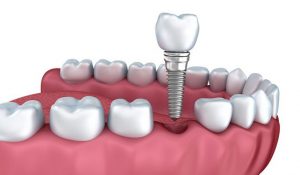 When you lost teeth as a kid, your parents celebrated. The tooth fairy came for a visit, and gave you money or toys to spirit those teeth away into the wild blue where did those teeth go? But when you lose teeth as an adult, no one celebrates.
Missing, damaged or broken teeth are embarrassing and often painful, but there is a solution: Dental Implants. They look and function just like your natural teeth, and Many of the patients we treat at Dentistry For Life in Philadelphia Dental Implants are prefered over other methods (such as dental bridges) because it doesn't require moving remaining teeth to place the new one.
Am I healthy enough for dental implants?
If you're healthy enough to receive the treatment required for fixing bridgework, or even for routine extractions, chances are you're healthy enough to undergo a dental implant procedure. But then again, maybe not. Some patients may suffer from other health conditions that could render them ineligible for dental implants, but you should know that this is rare. Only after you speak with your Philadelphia cosmetic dentist will you know if you are truly a good candidate for dental implants, and which implant system is right for you.
How long will my dental implants last?
Your teeth are meant to last a lifetime, and so too are your dental implants — with the right care, that is. With proper dental hygiene and routine dental check-ups, your dental implants will last as long as you do.
Do dental implants require special care?
Take care of your dental implants the way you take care of your natural-given teeth. Brush at least twice a day. Flush regularly, and visit Dentistry for life for routine dental check-ups. Oh, and did you know that more teeth decay, and are lost as a result of gum disease than from any other cause? Take care of your gums; your gums will take care of your dental implants.
How long will the dental implant process take?
The process of implanting dental implants often happens in three stages.
In the first, your Dentist will develop a detailed evaluation and treatment plan – It can be argued that this is the most important step. — after which he or she will place the implants. There they'll remain covered for as few as three, or as many as six months as the implants bonds itself to your jawbone.
When it comes time to execute the second phase, you'll return to the dental office and your Philadelphia dentist will uncover the tops of the implants to place small metal posts, or extensions. And then, two to six weeks later, the third phase will begin, which itself takes another four to eight weeks. During this time, you'll be asked to return to the dental office several times in order to properly fit and fabricate your replacement teeth.
To make a long story short, the dental implant process takes an average of five to eight months to complete but may take longer if there are other, necessary gum or bone graft procedures that must take place first.
Do you think you may be a good candidate for dental implants or missing teeth
Contact Dentistry For Life today, to schedule a routine check-up, and ask us about dental implants while you're at it!