Find Out If You're a Good Candidate for Dental Implants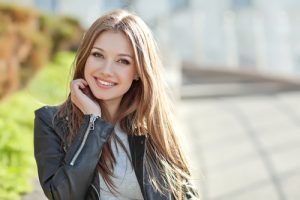 Anyone who has missing teeth may wonder if they're a good candidate for dental implants, but there are several circumstances that affect whether this dental restoration is right for your oral health. At Dentistry for Life, we review all restorative dentistry options to help determine whether dental implants are the right tooth replacement solution for you.
Whether you are missing a tooth or teeth because of extraction, gum disease, an accident, or otherwise, there is no reason to live with missing teeth. There is always a solution to fill those empty spaces, and dental implants are quite often the very best solution.
The path to finding out if you're a good candidate for dental implants usually goes something this:
Consultation: You've been living with missing teeth, have just had a tooth extracted, or suspect that you'll be losing a tooth soon. Time to set up a consultation with Dr. Patel or Dr. Parikh to discuss your concerns, questions, and hopes for your smile makeover.
Assessment: A full assessment includes a review of your oral health history, as well as your medical history. A current dental exam will also be conducted. X-rays will need to be taken, along with an impression of your teeth and 3D scans of your mouth.
Action: If you have advanced gum disease and that is the main reason you have missing teeth, this problem will need to be addressed first. You cannot build on a shaky foundation, so it will take patience and time to clear up the infection and properly ready your gums for dental implants.
Age is irrelevant when it comes to dental implants – you can be young or old. What matters is that you have the bone density, jaw strength, and desire for the dental restorations that will complete your smile. It's essential for your Center City dental implant specialist to evaluate the strength and position of your jawbone, gum tissue, and spacing around your teeth to ensure there is room for the implants.
The Importance of Dental Implants
Dental implants are a top tooth replacement solution because they not only replace the tooth above the gumline, they replace the tooth root under the gumline. When a tooth is lost, the roots are too, and this consequence leaves the jawbone in that area unstimulated. When multiple teeth are missing in the same area of the mouth, the jaw eventually begins to deteriorate, which can lead to a compressed or shrunken look that automatically ages a person.
Dental implants are surgically implanted, fuse to the jawbone during healing, and permanently fill the hole left by a missing tooth, both above and below the surface, giving you a complete, healthy smile once again.
Dental Implants and Other Tooth Replacement Solutions in Center City
If you are not a good candidate for dental implants, that doesn't mean there is no hope for replacing your missing teeth. Dental bridges and crowns are an excellent alternative to implants. They are less invasive, with the bridge filling the gap between two teeth and the crowns anchoring the bridge in place.
Dentures are also an option, especially if you are missing multiple teeth or an entire arch of teeth. For some patients, dentures can be attached to dental implants for a more secure solution. For others, dentures are the only solution, but the modern version of this dental restoration is far more user-friendly and comfortable than dentures of the past.
Ultimately, there is always a way to fix your smile to make it complete and look natural. Your Center City restorative dentist will help you figure out what will work best. Contact Dentistry for Life to schedule your consultation and find out if you're a good candidate for dental implants, an implant overdenture, or Teeth in a Day.