Concierge Emergency Dentistry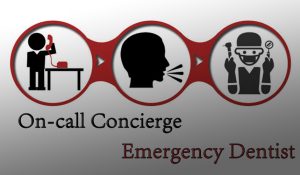 Emergency Dentist: On-call Concierge Dentist 24/7
If you need emergency dental services in Philadelphia don't hesitate to call our office!
Get treated immediately! We understand that accidents happen, and when they do, our Dentistry For Life office will be there to help! Dental emergencies can be a result of biting down on food that is too hard, sports-related injuries, falls, and many another type of accidents. No matter what happened, our staff will do everything possible to get you an appointment the same day so that you can get back to your routine. Some oral injuries may need immediate treatment, while others can wait until normal business hours.
Depending on the level of severity, dental emergencies can include:
Lost or broken fillings
Severe tooth pain
Broken crowns
Broken dentures
Broken or loose implants
Cracked, broken, or knocked out teeth
If you aren't sure if you need immediate attention but are having severe tooth pain it could be something like an abscessed tooth, so just call our offices as soon as possible.
On-call Concierge Dentist 24/7 in Philadelphia
A personal relationship with Dr. Kimmie Patel & Dr. Kunal Parikh
Personalized healthcare treatment plans
A non-traditional model of patient care-VIP
Staff assistance with the patient's insurance company benefits and reimbursements
The difference between insurance-focused and corporate dental care practices and concierge dentists like Dr. Parikh and Dr. Patel lies in the way a dental practice thinks about its patients. In the insurance-focused and corporate dental practices, it's about dollars and treatments. With Concierge Dentistry practices like Dentistry For Life, it's about the patient. The problem comes first and treatment comes after the patient's wants and needs are determined.
If you are having a dental emergency call us NOW at 215-575-0550 for emergency dental services.
Don't wait until it gets worse, get treated today by a trusted Philadelphia dental office.
If you have any questions related to emergency dentistry treatments, feel free to give us a call today!